Coach handbags are everyone's favourite we all know but many of us don't know the bestseller of Coach is the pink handbags as it's the main colour choice of young ladies and that's why Coach has also launched very unique and cute models for the lovers of Pink. Pink is a feminine and cute colour and goes with all outfits. Pink Coach Handbags have there many replicas available in the market due to its great demand. Coach has launched few very interesting styles in pink colour. Many of very famous and demanded handbags of Coach is also available in cute pink or tones of red. There are many shades of pink available but most liked one is the light shades of pink. People keep on chasing there choices on various online sites. Many people sell there used pink coach handbags and due to less and affordable prices buyers prefer to purchase it online from others rather then direct from company.
These are three of my favourite Pink Coach handbags. I think they are stylish and will definitely turn you into fashion diva.
Pink Coach Hamptons Pebbled Leather Satchel
Size– The medium-sized bag measures 12(L) x 8.5(H) x 5(W)
Material Used– made of textured leather with a fabric lining.
Colours Available– The bag also comes in Caramel, Parchment/Cream and Black
Madison Lurex Top Handle Pouch Lurex
Size– 10 1/2″ strap, 4" drop, 7 (L) x 6 (H) x 3 5/8 (W)
Material Used– metallic leather and button detail
Style– Zip-top closure
Colours available-silver/gold, silver/black
Optic Signature Baby Bag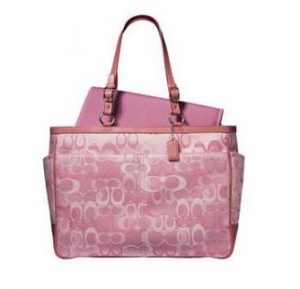 Size– 21 1/4" straps, 15 1/2 (L) x 11 3/4 (H) x 5 1/2 (W)
Material Used– Optic signature jacquard fabric
Style– Baby Bag, Zip-top closure
Colours available– silver/blue, silver/black, silver/khaki