Handbags always compliments the dress person is wearing and there are certain common colors which never goes out of fashion and always matches with everything you wear. Yes,I am talking about white. Coach has beautifully used this color in some of there handbags like
Optic signature Duffle looks great if someone wants handbag in white. It has a beautiful signature pattern which is the main beauty of this handbag.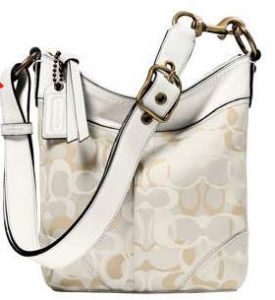 People like it every time they see it. My sister own the handbag and never give it to me for use as she loves it like anything. It has all coach qualities like cellphone pockets, inside zip pocket for your valuables, adjustable leather strap which can be worn from either side, back zip and fine leather. The bag is also available in Brass Blue. But I personally feel white is the best color for this kind of a handbag.