Sometimes we just purchase the handbag, which we like and get confused with the first look. Later the problem which comes is the utility, space should always be appropriate along with the look. Coach has recently launched there Signature Stripe collection. The unique collection have irresisitable beauty along with the space. Let's have a look on some of its pieces.
New Signature Stripe Patchwork Tote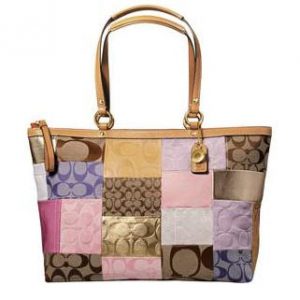 We can see the freshness in the designing and the combination of our favorite patterns have been inculcated beautifully in these handbags. Nappa leather, suede, Signature jacquard fabric, crinkle patent leather, metallic cowhide is used for its patchwork. Having all the qualities a person can expect from Coach Inside zip pocket, Cellphone/multi-function pocket and pen pockets,  Ring to clip an accessory etc. This handy and beautiful Coach handbag have enough room to keep anything.