Different people have different views on spending matters  some can spend lavishly on there fashion scene but some cannot. depending on the thinking few people love to carry designer handbags and hence spend a lot on designer brands like Coach handbags, Gucci Handbags, Prada Handbags etc. But if we talk about the prices of these purse sometimes its not genuine and fair. I am a die hard fan of coach handbags but I agree few Coach purses do not match with the prices quoted like.
New Bleeker Alligator Large Duffle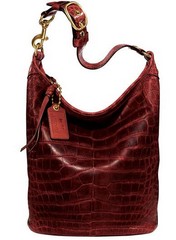 This Duffle is extremely stylish and cool but the price quoted for this particular product is not worth. This Duffle has all the general and unique features which a Coach has like Alligator leather with leather trim, Inside zip pocket, Cellphone/multi-function pockets, Ring to clip an accessory or keyfob, Zip-top closure, 18" adjustable strap etc but these features.
I will never prefer to purchase this Coach duffle in $7000, but its really a matter of personal choice and preference. so, would you purchase it in the same cost?